Wednesday Dec 5th Fishing Journal Entry
Fish Don't Bite After a Blow at the CBBT? Nah
We hit the water around 7:30am and headed out to fish the CBBT. First cast Bill hooked up, pretty much was that way all day. Well over 100 fish, most in the slot range. We had to move around to stay on the fish, but it was pretty constant catching all day. Saw tons of TFers fishing and at dinner tonight.

Tomorrow looks like its going to blow, not sure we will get out or not, but if not tomorrow Friday for sure.

Pics below.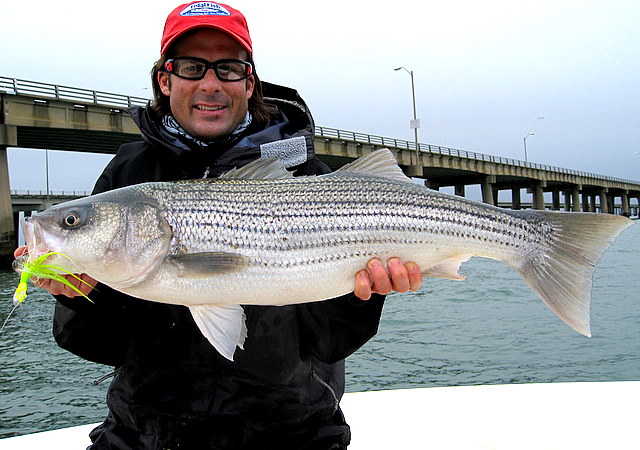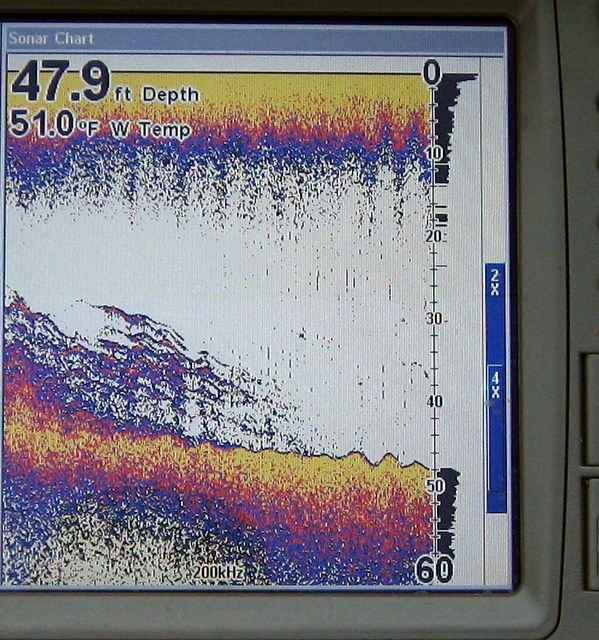 Thursday Dec 6th Fishing Journal Entry
CBBT Striped Bass Like Wind
Quick report tonight, I need to hit the sack to get on the water early, Wild Bill is an early riser. The wind was howling this morning, but we saw it dropping out to about 15 around 2:00pm so after a good lunch at Sting Rays we loaded up and headed out to the CBBT. We had a nice following sea on the way down which was fun. We pulled up, saw some fish on the fish finder and in literally 10 minutes we had our limit of fish, four nice 26-27 inch fish. We keep on catching until about 4:45pm until they turned off as it was getting dark and wind kicked up just a little bit. We probably caught 30+ fish from 24-33inches. We looked down the pilings for fish for another 30 minutes, but called it a day around 5:15pm and headed back to the barn. Luckily the wind died down a bit and it was not too bad a ride back.
Back at it tomorrow. Just two pics tonight of what it looked like and back by popular demand my self shot. Sorry no pics of fish, it was a little rough to stop and take the pop shots. Will get some tomorrow, they are calling for calmer seas.
Friday Dec 7th & Friday Dec 8th Fishing Journal Entry
Ocean Bound
Wild Bill and I headed out of Kiptopeke at o'dark thirty on Friday morning on Day 3 of our CBBT Adventure to try our luck at jigging in search of some bigger fish. The sun was just coming up as we arrived at jigging piling #1. As soon as we drifted through the meter lit up and it was game-on. We had non-stop action for about an hour and a half and then the armada showed up and the bite slowed a bit. Most all of the fish were in the slot, but we had some bigger ones above the slot. Not the monsters we were looking for, but a ton of fish and a lot of fun. We would have continued jigging, but the problem was that just about every piling was taken with a boat, so there was no room to move. Faced with that Wild dilemma and the beginning desire to sling the long rodswe had a pow-wow and decided we were going to go for broke and go look for some fish somewhere along the coast. If we did not find them so be it, we could always come back to the bridge and get into some good action somewhere. I luckily got a call that there were signs of breaking fish south along the coast, so we fired up the engine and made a course out the bay and south. It was slow going in the beginning, a lot of running, stopping and looking in the binoculars and that drill over and over again. Finally, we found what we were looking for, it was not perfect, but we found them swirling and doing their thing. We found action the rest of the day until the sun started to set with 32-40 inch rock (Bill landed it, pic below) and a few bluefish mixed in. As the sun started to get lower we decided to pack it in for the long ride home. Luckily it had laid down making the run home a little faster then it was going down. We hit a good Sting Rays dinner and headed back the Kiptopeke Inn to re-charge for Saturday. I think the lights went out around 8:30pm along with Bill and I out like a light.

Saturday, Day #4, we again decided to head straight out to the ocean side with visions of long rod action fish swirling in our heads. The question was which way to go because of the change in direction of the wind. I called a friend south and then one north. We knew south was decent, but one friend said he was north on Friday and had good strong fly-friendly action, so Bill and I had a pow-wow and decided we would head north up to 20 miles, if we did not see them we would head back south, if nothing was south to the point we were the day before, we would head to the CBBT and finish up up the trip popping some fish on the jig.

There was some more chop on the water then on Friday and it started out looking bleak with not a single bird in sight. Finally Bill's 10x glasses showed some signs so we kept going. We found them finally, first the birds showed and then the meter lit up and it was game-on again for the rest of the day. Saturday proved probably 1-7 bluefish to striped bass which was just fine with us. It was long rod action for the next few hours. We did have to move with the fish and strangely enough, at least to Bill and I, the fish were working north the entire day. Towards afternoon it slowed a bit and we looked down at the gps only to find we were really far north, farther then Bill and I realized. Given we needed to clean the boat and pack our stuff we decided to call it a day.
.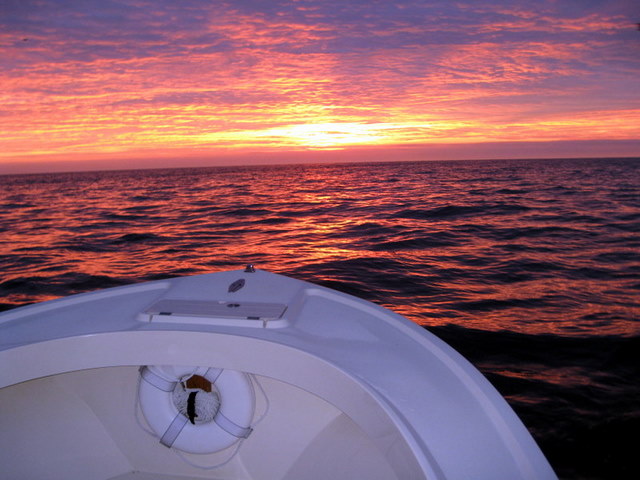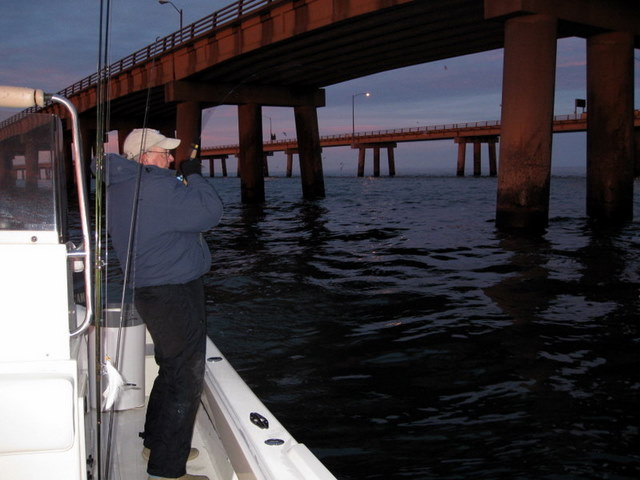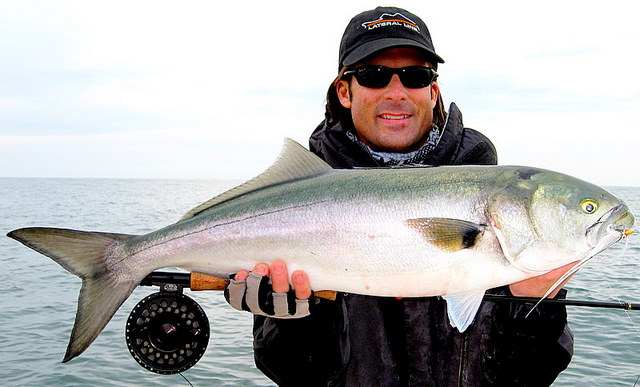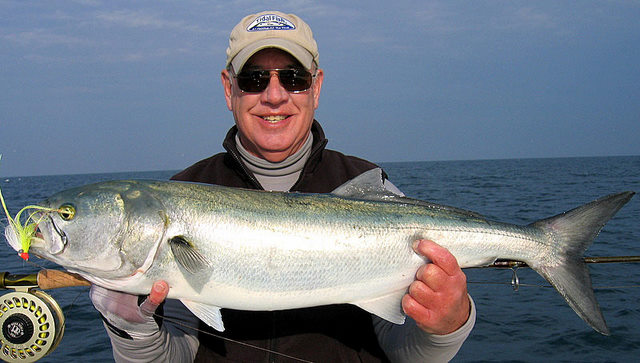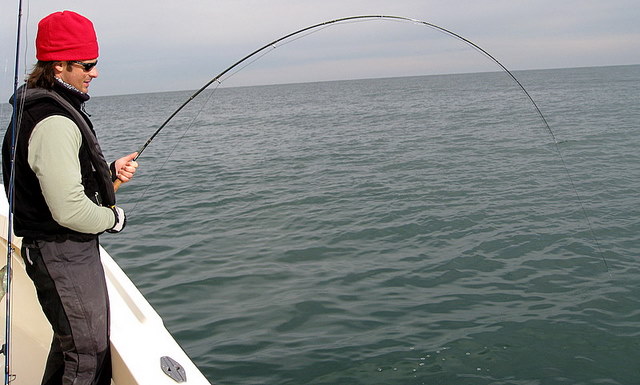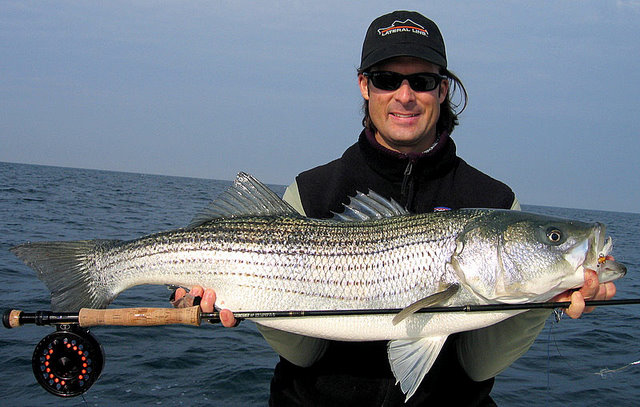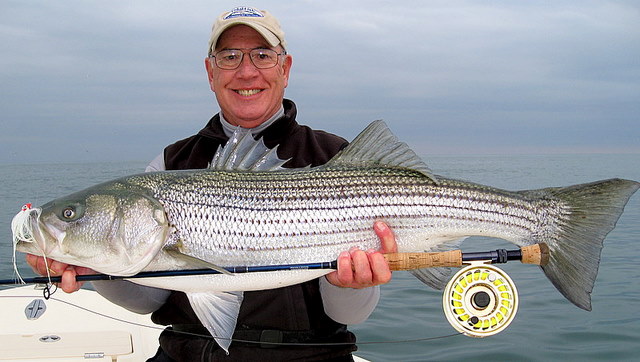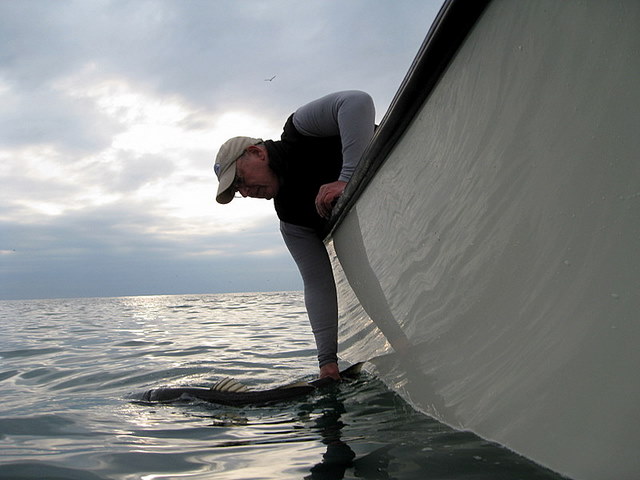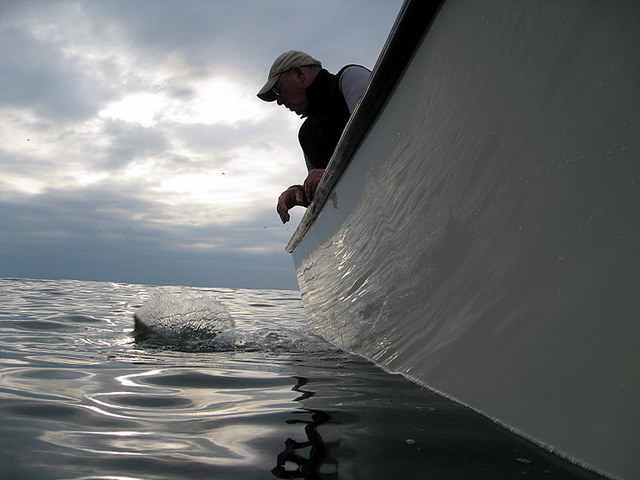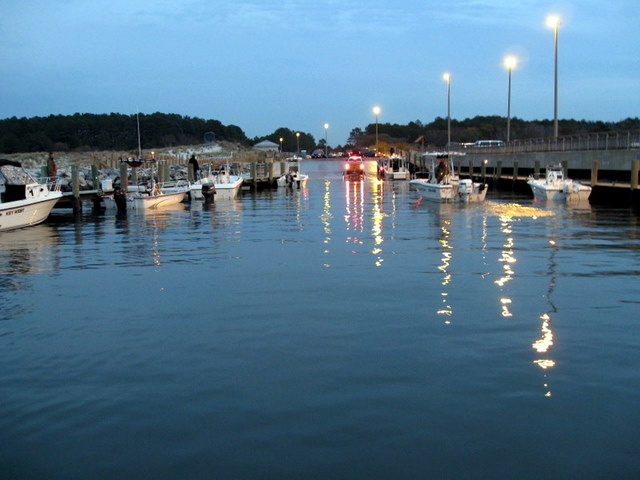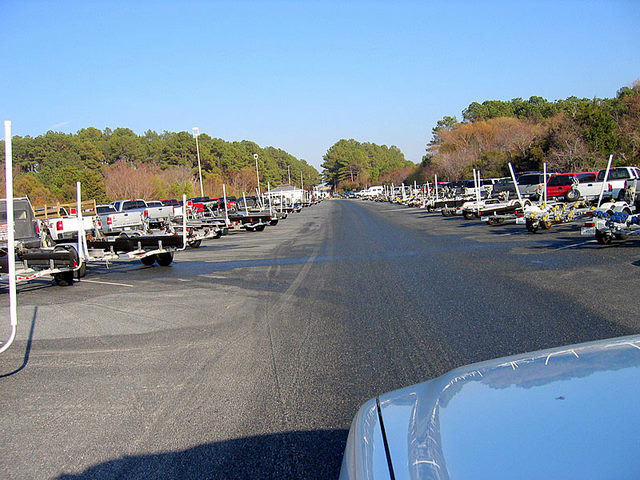 Summary
All and all our last 4 days have been excellent action. We were glad we were able to get to use the fly rods on some breaking fish away from the CBBT. It cost us some money in fuel, but sometimes if you want to get into action you have to take a chance and go for broke, you just have to be willing to find nothing, nothing out there is a sure thing that is for sure.

Bill, "The Professor" and I always have a great time together on our fishing adventures, fish or no fish, this trip we were blessed with not only good company, but great fish action. Not sure it gets much better then that. Thanks Bill for the good time!

We are back home this morning, but we will be back down this week for sure. I will be down Wednesday-Sunday/Monday for the Tidal Fish Rockfish Tournament and will be fishing each morning before I have to be back for the weigh-ins. I think Bill will be heading down mid week as well.
Good fishing!

Brandon
LOCATION
Chesaepake Bay Bridge Tunnel & Atlantic Ocean, Kiptopeke, Virginia

DATES
December 5-9th, 2007
SPECIES CAUGHT
Striped Bass, Bluefish, Sharks
WEATHER
Dec 5-7th, cold/damp mid 40's, cloudy, winds 5-15mph
Dec 8-9th, warmer, high 50's some sun, winds 5-10mph

**Special Note: it blew for two days previous to this trip in the area, 30+mph winds, no rain and no sudden temperature drops

WATER TEMPERATURE
48-52 degrees
ANGLERS
Wild Bill Schotta & Brandon White
RAMP/PORT USED
Kiptopeke State Park Boat Ramp
LIGHT TACKLE RODS, REELS, FISHING LINE & FISHING LURES
Brandon: Shimano Sustain 4000 spinning reels with 14lb fireline, 30lb Ande Fluorocarbon leaders. Rod: GLoomis GL3 7' heavy. Lures: Tidal Fish Lures in 1.5oz (chartreuse and black)

Wild Bill: Penn Slammer reels with 14lb test, 30lb Ande Fluorocarbon leaders: Rods: St Croix Avid Med-Heavy 6''6" and GLoomis iMX Med-Heavy 6'6". Lures: 6 inch Bass Assassins, 10inch BKD's and Wild Eyes, all in 1.5oz.
OTHER LIGHT TACKLE NOTES
Bill tried 9inch plastics and they did not work, it was the smaller baits that did the trick for more of the trip
FLY RODS,REELS, FLIES, LEADER
Brandon: Sage 10wt XP's with Tibor Everglades reels. I used two lines 1) Rio Striper 250 sinking line, 2) Scientific Angler Type III sinking line, Flies: Blanco Grande's on 5/0 hooks, leader: a few feet of 25lb Ande Fluorocarbon and when blue fish were around a few feet of wire (BIll will have to post the information on that, it was his and it was great stuff)

Wild Bill: Gloomis GLX's 10wt's on Everglade Tibor Reels. Bill, Please fill in the information on your lines, I know you were using the same 25lb Ande leaders and wire, just not sure on the lines, also your fly pattern, I know it a big white one you like for ocean fish.
OTHER FLY GEAR NOTES
Do not be afraid to use wire leaders when bluefish are around; striped bass will hit them with no problem and are generally not leader shy in the ocean when feeding.