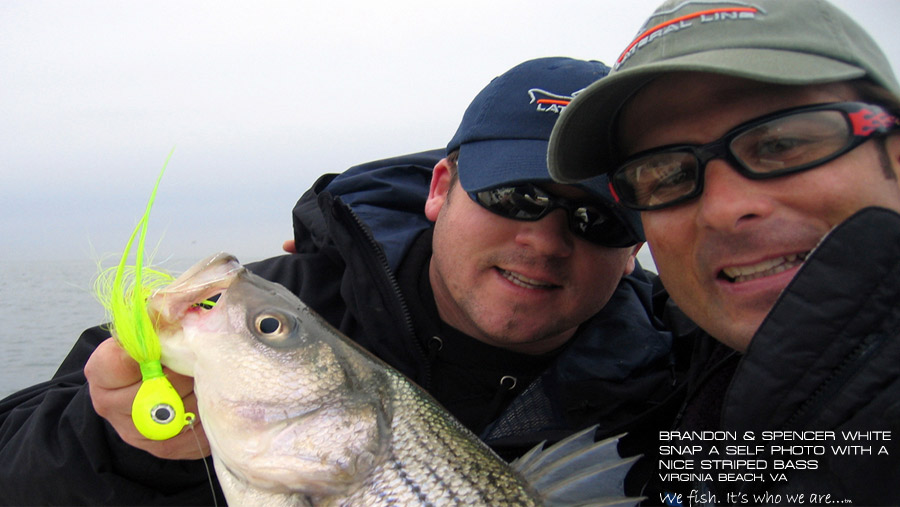 Company Team | Philosophy | History | News | Our Fishing Apparel | About a Fish's Lateral Line | Lateral Line Foundation & 2% for the Fish | Copyright & Trademark Information
We are two brothers pioneering a new category in the Outdoor Clothing market, building a Technical Year-Round Fishing Clothing System for Striped Bass anglers. We have a fanatical passion for fishing and a vision to build the striped bass angler's brand and we're doing it by building the most technologically advanced year-round fishing clothing on the planet. Decades on the water, in combination with countless hours of input from our hardcore fishing friends and an unflagging desire to produce only the very best has built the Lateral Line concept. Lateral Line is made for dedicated, hardcore, striped bass anglers.
Founded in 2004, Lateral Line, Inc. is headquartered in Easton, Maryland, a small town on the Eastern Shore of the Chesapeake Bay. The Chesapeake, acclaimed for its epic, year-round Striped Bass fishing, exhibits a widely diverse range of conditions, making it the perfect place to build and test the Lateral Line system of fishing clothing and gear.
Over many years of fishing, we saw ourselves and our fishing friends always having to mix and match clothing brands for our year-round striped bass fishing adventures. One Fall afternoon, while on one of our regular fishing trips fishing for striped bass in the middle Chesapeake Bay, Spencer and I were taking a break for lunch and kicking the Lateral Line idea around when we literally counted ourselves wearing over twelve (12) clothing brands to outfit a "fishing clothing system" for ourselves. Surprisingly, upon further discussion we discovered most of the clothing was neither designed nor tested for people who fish. Having to wear ski pants to fish simply made no sense to us, yet that was our only option "for best in class" clothing. It quickly became apparent to us there was no "anglers brand for striper fishermen ", if there was we would have been wearing it. As life long anglers and business guys, we knew that we could create a company that developed a system of technical year-round fishing clothing built specifically for hardcore striped bass anglers.
We view the clothing we wear while fishing as part of our "equipment" and that is the approach we take when we build it. Just as we expect the highest standards from our fishing reels, rods, lures, flies, boats, motors and even our towing rigs, we expect the same from what we wear. Lateral Line products are the best of the best, rugged and meant for hardcore year-round striped bass fishing. If we say a Lateral Line jacket or pants is waterproof, they are 100% waterproof, period. That means the seams, the zippers and everything. Catching fish is tricky enough and we (anglers) need whatever advantage we can get; the last thing we want to worry about is our apparel failing while trying to concentrate on catching a monster striped bass frothing on menhaden. Finally, we (anglers) have a clothing system specifically designed for the demands that year-round striped bass fishing requires, Lateral Line.
When buying Lateral Line apparel and gear, you are not just getting the very best fishing clothing and gear on the planet; you are also giving back to the fish through our "2% for the Fish" program, wherein we give 2% of our top-line sales to fisheries conservation, doing our part to ensure we have fish to catch in the future. We run our company with the goal of achieving a triple bottom line. We believe that through this balance we can provide superior products to our customers, have fun, take care of our employees, save the fish, and make money all a the same time. Lateral Line is a founding member of the bCoproration classification of businesses which sets out to set new standards for social and environmental performance. In addition, we believe in supporting our local community and purchase local goods and services when possible. Sometimes these philosophies lead us to spending more then we might otherwise had we simply sought out the lowest price, but we believe the inherent benefits of striving for a triple bottom line far outweigh a few extra bucks we could have saved. You share and support our commitment by purchasing Lateral Line apparel and gear.
We are customer centric and are focused on building a relationship with you, our customers, dedicated to using our creativity, knowledge and vision to exceed your expectations of technical year-round fishing clothing specifically for striped bass anglers. If you ever have any questions, concerns, suggestions or want to talk to us about fishing or something else please feel free to email us at [email protected] or [email protected]. You can also reach us via our office number at 443-539-3701. If it's urgent and you can not reach us at the aforementioned contact information, call Brandon, on his cell at 410-310-7051.

When does a hobby turn into a passion, a passion into an obsession, and an obsession into a business? We're not sure; it seems to all blur together for us. We hope to share our obsession, passion and business with you through Lateral Line.

Brandon & Spencer White
Founders, Lateral Line, Inc.
We fish. It's who we are…

Contact Us Information
Lateral Line, Inc.
620 South St.
Easton, MD 21601
phone: (443) 926-8016
email:

[email protected]