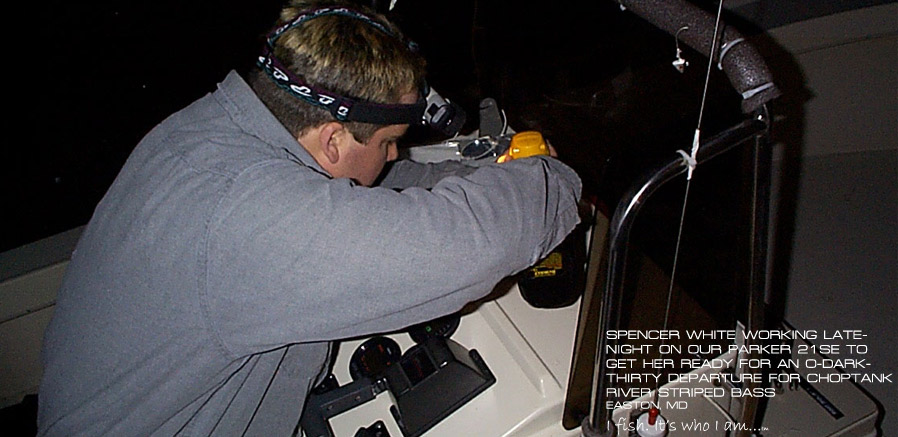 Company Team | Philosophy | History | News | Our Fishing Apparel | About a Fish's Lateral Line | Lateral Line Foundation & 2% for the Fish | Copyright & Trademark Information
Brian LeGette - Chief Consumer Product Specialist
Brian Le Gette is the former-CEO and co-founder of 180s, Inc., maker of "revolutionary" performance wear for athletes. 180s is a thriving and profitable company with $40 million in revenues in 2005. The company was recognized by Inc. magazine as the 9th fastest growing private company in the U.S (Inc. 500) and the #1 fastest growing privately-held, inner-city company in the country (Inc. 100). He has designed and patented more than 50 one-of-kind products (with more than 100 patents-pending world-wide) including the company's signature, market dominating, wrap-behind-the-head ear warmer. Brian launched four multi-million dollar brands (in the beach, sports, work wear, and fashion apparel spaces) through television, catalog, on-line retailers and numerous brick-and-mortar channels (with retailers like Home Depot, REI, Nordstrom, QVC, Sharper Image, Target, Macy's, Dick's Sporting Goods and the U.S. Military.) through sales offices in the U.S., Canada, and France. 180s products are currently carried in more than 18,000 retail stores worldwide in more than 40 countries.

In August of 2005, Brian sold 180s and started a business consulting firm, Carbon Prime, LLC, specializing in start-up businesses with a focus on the consumer product, healthcare, technology, and education sectors. Brian was Entrepreneur of the Year, E&Y, MD, and E&Y Top 3 Nat'l Finalist in 2002. Prior to founding 180's he has was a Special Assistant to the President of Westinghouse Electric (Asia) in Beijing, China and also a technical specialist for the Commercial Attaché at the U.S. Embassy. Prior to that he spent four years at IBM and Texas Instruments in system's engineering and semiconductors, respectively.

Brian has an MBA from the Wharton School at the University of Pennsylvania with a concentration in Entrepreneurial Management and a BS in Electrical Engineering from the University of Maryland, College Park.
Tom McMurray - Chief Conservationist and Finance Specialist
Tom is the Founder and President of Marine Ventures Foundation (MVF), a family foundation that both conducts and funds innovative conservation research and advocacy for pelagic fisheries and also funds cold water stream restoration and advocacy work. Since forming the foundation in 2000, MVF has funded a wide range of scientific and educational programs for bluefin tuna, white marlin, bonefish, dolphinfish, whale sharks, striped bass, tarpon, trout and forage fish such as menhaden. The foundation is also engaged currently in field tagging studies of dolphin (mahi-mahi) and bonefish in the Bahamas and Caribbean and also the development of GIS tools for studying migration patterns of pelagic fish.
Dr. McMurray also is the Chairman of The Ocean Foundation, the first community foundation dedicated to support global marine conservation causes, the Tag A Giant Foundation whose mission is to protect and restore bluefin tuna populations and finally serves on the Board of Visitors of the Nicholas School of the Environment at Duke University. From 1990 to 1999, Tom was a general partner at Sequoia Capital, an early stage venture capital firm that has invested in companies including Apple, Cisco Systems, Yahoo, and Google. Tom has his BS, MS and PhD. in Mechanical Engineering and Materials Science from Duke University.
Spencer White - Founder, Chief Designer
Spencer has been an entrepreneur and has extensive experience in multimedia, video production, directing, and the apparel industry. He previously founded, launched and distributed, through specialty retailers, a small line of branded clothing targeting import car enthusiasts. He has produced and sold several DVD's for the car enthusiast industry and has been featured in industry magazines as well as on radio. And as importantly has been a fanatical angler his entire life.
Spencer has his undergraduate degree in Sociology from Washington College. Post graduate Spencer attended and graduated from Shelter Institute in Bathe, Maine where he was trained and schooled in Post and Beam and Alternative House Building.
Brandon White - Founder, Chief Angler
Beyond Brandon's fresh and saltwater fishing prowess, he has been an entrepreneur, investor and served in management with a Fortune 100 company. Previous to Lateral Line, Brandon worked for two prominent venture capital firms in Northern Virginia spanning the enterprise software, B to C and B to B internet, and consumer product industries. He also worked as a Senior Manager at America Online, Inc. in Marketing helping to manage and develop new business units. Brandon started his professional career as a pioneer on the Internet in 1995 as the Founder and CEO of Worldwide Angler, Inc. (WorldwideAngler.com) Worldwide Angler was recognized as the leading social networking and e-commerce site on the internet by publications such USA Today, Washington Post, Baltimore Sun, ranked as one of the leading fishing sites by Marlin Magazine and for its leading technology by PC Magazine. In 2001 Brandon founded TidalFish.com, a social netowrking site of over 54,400 passionate, hardcore recreational anglers.
Brandon serves on the Board of Directors of Marine Ventures Foundation and the Lateral Line Foundation. He also was apponited by the Governor of Maryland to serve on the Maryland Sportfish Advisory COmmision. IN the past he has served on the Maryland Outdoor Caucus (A select group of public and private sector leaders who are asked by the Secretary of Natural Resources to use their experience and expertise to help guide the Department's policies and programs) as well as serving on the Board of Directors for the Coastal Conservation Association of Maryland.Brandon is a member of the Outdoor Writers Association of America, the Mason Dixon Outdoor Writers Association as well as numerous fishing clubs along the east coast. For insight into Brandon's fishing experience please see the Lateral Line Fishing Journal that chronicles all his, as well as the Lateral Line crew's, fishing adventures.
Brandon has his MBA from the University of North Carolina, Chapel Hill Kenan-Flagler Business School. He has studied internationally at Erasmus, Rotterdam School of Management(Netherlands), Gdansk Foundation for Management Development,(Poland), EGADE(Mexico), FGV-EAESP(Brazi) and at the Chinese University of Hong Kong(China). In addition, he has his BA and Masters(MA) in Psychology from Washington College.