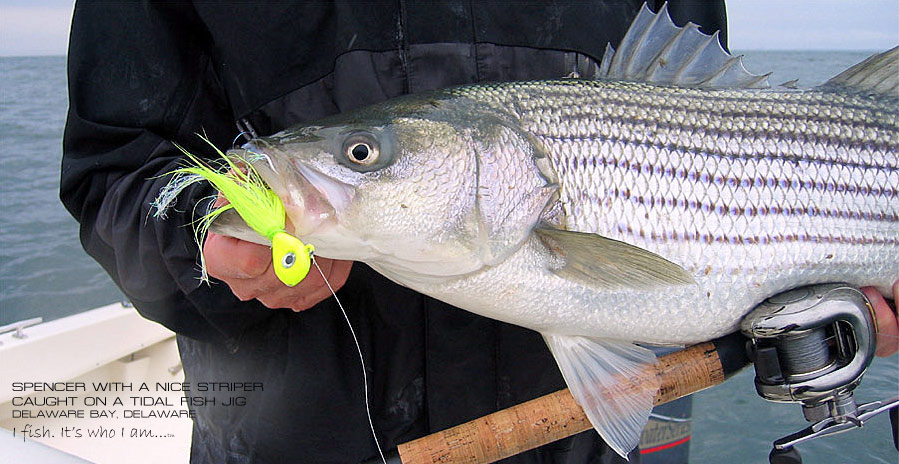 Company Team | Philosophy | History | News | Our Fishing Apparel | About a Fish's Lateral Line | Lateral Line Foundation & 2% for the Fish | Copyright & Trademark Information
Lateral Line was founded by Brandon and Spencer White in 2005, but the idea spawned many years ago.
We (Brandon and Spencer) have been fishing fanatics since we grew up together fishing the streams, ponds and creeks that ran through the farm we grew up on in northern part of Maryland. Even in high school between playing sports we both still made time to fish; it was just too much fun not to do. After high school we both went to Washington College on Maryland's Eastern Shore. We picked it for its academics and student to professor ratio (that's in case Mom is reading this) but "also" because it just so happened to be located on the Chester River and not far from the Chesapeake Bay which had great fishing. We managed to find a house to rent on Still Pond Creek right off the Bay so we could fish before, in between and after classes. While many of our friends turned to hunting in the winter months, we kept fishing. The challenge that we found was there was not a year round fishing apparel brand that made the clothes tailored to our needs, rather we found ourselves mixing and matching brands and cutting and sewing features into jackets, pants and shirts for our seasonal fishing clothing needs. When our friends saw the modifications they were always impressed and wanted one of what we had. In a way we had created what today is Lateral Line, back then with no brand name attached.
After college life changed a little with careers and daily life and not being able to fish every day. But post college life afforded us the opportunity to get a little bigger boat and expand the areas in the Chesapeake and destinations we could fish. When we had a day off to fish we could not be picky, so rain or shine, summer, spring, fall or winter we headed out.
Our careers were very different after college, but we always wanted to find a way to work together and somehow do something related to fishing. Our Mom and all our mentors (Tom M. and Chris C. to mention two prominent ones) always said to follow your passion, no matter what it is, do what you love and you will be successful. Spencer and I knew we love fishing. So in late 2004 while working on my MBA and needing a topic for papers, I started looking at opportunities in the fishing market applying everything I was learning in school and was taught working in the venture capital industry. One night while working on a paper I called Spencer and said, "You know how we have been hacking up clothes to fit our year round fishing needs all these years and how we are always talking about the lack of year round fishing clothing made specifically for what we do? Well, let's build a company that does just that. There still is nothing out there, after all if there was we would be wearing it and not be hacking up existing clothing to get it to do what we need. Let's do it ". We kicked around the idea for a while. Then one Fall afternoon, while on one of our regular fishing trips fishing for striped bass in the middle Chesapeake Bay, Spencer and I were taking a break for lunch and kicking the Lateral Line idea around some more when we literally counted ourselves wearing over twelve (12) clothing brands to outfit a "fishing clothing system" for ourselves. Surprisingly, upon further discussion we discovered most of the clothing was neither designed nor tested for people who fish. Having to wear ski pants to fish simply made no sense to us, yet that was our only option "for best in class" clothing. It quickly became apparent to us there was no "anglers brand for striper fishermen ", if there was we would have been wearing it. As life long anglers and business guys, we knew that we could create a company that developed a system of technical year-round fishing clothing built specifically for hardcore striped bass anglers.
We did the MBA thing and took a hard look at the market; we confirmed our gut feeing and what we as fishing consumers knew; there were companies that at their core either do climbing, skiing, surfing or general outdoors companies making specific clothing for their core customers and if they had a fishing clothing line it was a half baked line of stuff which was not functional nor authentic, but more of something they came up with to market stuff they already had to anglers to simply grow their revenue. No company was first and foremost a fishing apparel company offering a yea- round system of clothing specific for the striped bass angler like ourselves.
We were going for it, but there was the all important issue of coming up with a name. We agreed it had to mean something intimately related to fishing, it had to be real. One day Spencer called me and said," I have it, Lateral Line. It's everything we have been looking for, it is an organ that every fish has and uses to protect itself from the environment, not unlike the apparel we are making to help to protect anglers, the lateral line is an element we can incorporate into the design of our stuff and its cool." Lateral Line was born and with the help of our friend Brian LeGette over countless hours of discussion and sketches spawned the Lateral Line logo you see today.
The next few months we spent talking to friends about their ideas of what functions and features fishing clothing should have. We started sketching, cutting up more clothes and coming up with clothing designs that encompassed functions and features we all envisioned. .
We will update this page as our story unfolds (if you want a longer story of how we got here, check this blog entry). If you ever have any comments, questions or suggestion please do not hesitate to drop me (Brandon) or Spencer an email, we always look forward to talking with fellow anglers.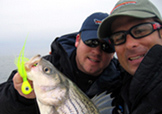 Brandon & Spencer White
Founders, Lateral Line, Inc.
We fish. It's who we are…tm