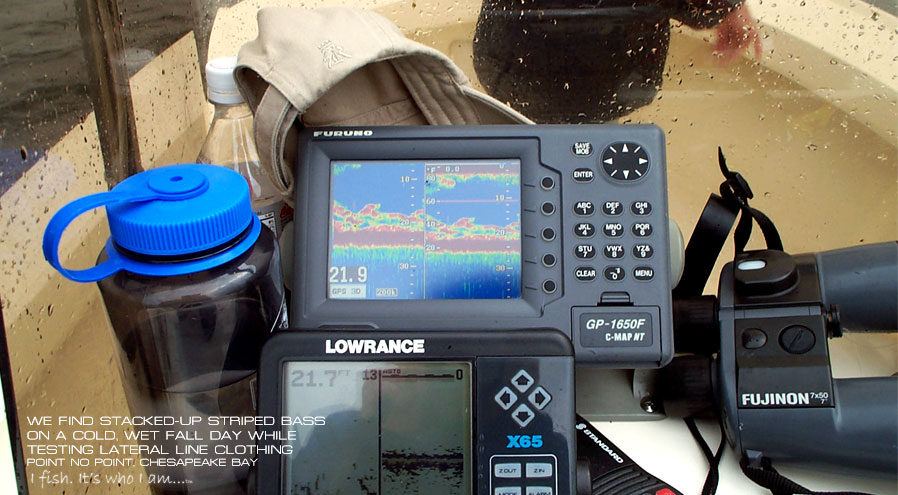 Company Team | Philosophy | History | News | Our Fishing Apparel | About a Fish's Lateral Line | Lateral Line Foundation & 2% for the Fish | Copyright & Trademark Information
We're pioneering a new category in the Outdoor Apparel market: Technical Year-Round Fishing Clothing for Striped Bass Anglers.

We conduct most of our Lateral Line fabric, construction, design and technology testing and research while striped bass fishing our home waters in the Chesapeake Bay. Weather conditions in the Chesapeake region vary widely throughout the year (and often in the same day); during the summer temperatures reach north of 90 degrees with humidity levels that threaten to break 100%. During the spring and fall we regularly find frost on the boat in the morning and sunny warm temperatures by mid-day, which demands a well thought out clothing layering system that incorporates performance fabrics. In the winter we chase menhaden-starved migrating Striped Bass in the southern Virginia bay waters and survive temperatures in the teens with slicing winds that push wind-chilled temps towards zero. Mother Nature has made the Chesapeake the perfect testing ground for the obsessive fishing clothing design team at Lateral Line™. It has pushed us to create the perfect system of technical year-round fishing apparel for all conditions that striped bass anglers face.

In order to withstand these extreme, and often unpredictable fishing conditions, we custom design our own Lateral Line fabrics and use only the most durable and comfortable constructions. For specific uses and conditions, we often leverage cutting-edge specialty suppliers to complement our best-in-class fabrics. Unlike other brands, we don't stop there, because truly advanced performance apparel demands innovations that enable all anglers to have a better experience on their fishing adventures.
Our mission is to provide striped bass anglers the highest-quality, technically-innovative, year-round fishing apparel on the planet. Just as a fish's lateral line protects it from its environment, our goal is to protect anglers from the environment on their fishing adventures.
Our Design Philosophy
We do all our design in-house at Lateral Line. Frankly, we do not believe in hiring an outside firm to design and market a product for us. We make real fishing apparel for ourselves and you, the angler, following three simple design guidelines when making all of our products:
Functionality – Our products are designed to be the most functionally possible. While we have an appreciation for design style, functionality comes first and is never sacrificed. Additionally, we do not do things just because others do them, we must see a true functional reason to do something or we not do it.
Durability - We design our gear to be the most durable possible. Year-round fishing exposes anglers to extremes in conditions and climates and our fishing clothes are designed to protect an angler from those extremes. If we say we have a waterproof jacket, then that jacket is truly waterproof, period.
Simplicity – every single thing we do from a feature on a piece of fishing clothing to our packaging must have a reason for existing or doing it. If there is no true use for something then it is eliminated. We do not add unnecessary features for marketing reasons alone.This eliminates clutter and negative environmental impacts that "extra" things create.
Frequently Asked Questions about Lateral Line Fishing Clothing

You say that Lateral Line fishing clothing is designed for Striped Bass fishing, can I use your stuff for other inshore species?
Yes. While we are first and foremost consider ourselves striped bass anglers, we also fish for and use our fishing clothes while fishing for other species such as: bluefish, redfish, speckled and gray trout, cobia, black drum,flounder(fluke), snook, bonefish, permit, tarpon, sailfish, dolphin, permit, giant trevally, marlin as well as and other saltwater species. We test and use our fishing clothes while fishing for these other species and it works and performs.
Why did you start as making fishing clothes targeted for Striped Bass fishing?
We grew up striped bass fishing, it is what we know best and with the varying seasons we as striped bass anglers needed year round fishing clothing that was designed for fishing.
Do you fish for anything else besides striped bass?
Yes. Please see our fishing journal, we fish all over the world when not striped bass fishing.

If I have an idea for a piece of clothing can I talk to you guys about making it?
Yes. Please visit our Lateral Line Lab where we welcome suggestions on new fishing clothes and improvements on current Lateral Line products.
Do you really design and make our own fabrics?
Yes. First we scour the market to see if there is a material out there that fits for what we need it to do, if we find it we will investigate using it. If it works for what we need we will use it. If we do not find what we need, we will set out to make our own. An example is our proprietary fabric we designed for our Crisfield Summer Fishing Shirt.
If you have any other questions, comments or feedback please do not hesitate to contact us.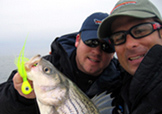 Brandon & Spencer White
Founders, Lateral Line, Inc.
We fish. It's who we are…