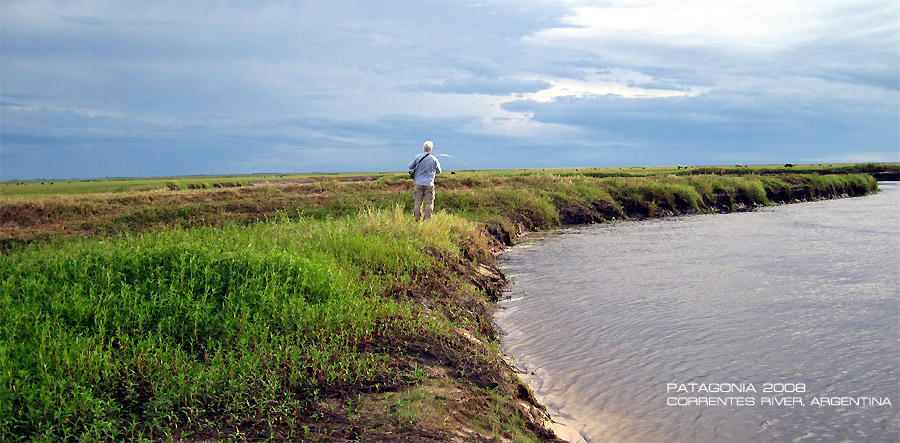 Patagonia 2008 Fishing Adventure
It's pretty darn cold and the striped bass fishing in Maryland waters is at about a halt for a few weeks. Although the striped bass fishing is still pretty hot in the lower Virginia Chesapeake Bay waters in and around the Chesapeake Bay Bridge Tunnel for catch and release fishing and also on some days out in the ocean, our Board member Tom McMurray, Lateral Line Ambassador Ryan Davey and I decided to take a few weeks and explore Patagonia. While we will be of course fishing, we are also meeting with local scientists to understand the different ecosystems and fish health with the possibility of helping with some fish studies that are taking place in different regions in Argentina's Patagonia. Of course we will also stop in and check out all the fly shops to show some Lateral Line gear. I am told there are probably less then ten fly shops in the whole country. Given we are covering almost every region we should be able to hit most of them.
Our itinerary is pretty jam packed, but I am told that we will have internet access in most places. I will post pictures and reports as much as possible during the trip. We head out of Dulles at 10:30pm tonight (Sunday) and arrive us Buenos Aires at 11:30am Monday. Buenos Aires is three (3) hours ahead east coast time, so our journey should take us a little over 10 hours. Just enough time to get some good rest.
Our itinerary
* a few things could change as the trip unfolds, we are staying flexible
February 24: Pick up Tom at National Airport. Drive to Dulles where Ryan will meet us. Flight leaves Dull as Airport 10:30pm

February 25: arrive to Buenos Aires on United Airlines at 11:25am. Transfer to hotel. Dinner at night, overnight at hotel.
Report and Pictures Here for Feb 25, 2008

February 26: Car pick up and drive us to Aeroparque domestic airport. Jump on private charter to Pira Lodge in the Ibera Marsh.
We should be catching Golden Dorado by 1pm.
Report and Pictures Here for Feb 26,2008
Conservation and Information about the Iberia Marsh Ecosystem (plan to work on on the plane tomorrow, Friday, on the way to Baroloche)
February 27-28: 2 full days fishing at Pira Lodge for Golden dorado
Report and Pictures Here for Feb 27, 2008
Report and Pictures Here for Feb 28, 2008

February 29: Early in the morning flight back to AEP (Buenos Aires). Connect to the flight to Bariloche
Report and Pictures Here for Feb 28, 2008

A Northern Patagonia Fishing Club person will be waiting and transfer us to the lodge


March 1-3: 3 full days fishing Northern Patagonia Fishing Club
March 1 Rio Allumine Float
Report and Pictures Here for March 1, 2008
March 2 Rio Pulmarí Walk in
Report and Pictures Here for March 2, 2008
March 3 Aoniken Spring Creek Hike-in Adventure
Report and Pictures Here for March 3, 2008

March 4th: Leave Northern Patagonia Fishing Club for Baraloche.
Meet university professor working on fisheries conservation for lunch. After lunch visit local university and meet with university professor.
Facu from Patagonia Fishing Hosts picks us up and takes us to Patagonia Fishing Host Lodge. Arrive at Patagonia Fishing Host for dinner.

March 5th .Float the Rio Rivadavia

March 6th Fish Lago Menendez

March 7th. Fish Spring Creek in Alerces Park in the morning. Then Facu will drive us back to Baraloche. Overnight in Baraloche.

March 8th. Early morning catch plane to Terra Del Fuego. Flight leaves Baraloche and we transfer planes in Calafate and then on to and then to Ushuaia, Terra Del Fuego. (The only way to fly from Bariloche to Ushuaia is connecting flights).
Barrett ( a fishing guide) from the Kau Tapen Lodge will pick us at at Ushuaia Airport and take us for a 300k drive to the lodge. We would stop in Tolhuin (affectionately known as el corazon de la isla) for some empanadas on the way.
March 9-14. Six full days fishing at Kau Tapen on the Rio Grande for sea run trout.
March 15th -16th. Move about 2 hours to a new lodge on the the Irigoyen River and fish there for two days.
March 17th. Early morning catch a flight from Ushuaia to Buenos Aires. Catch a flight back to the US that evening